Our first major update for Fall 2020 is almost here – and we're calling StockTrak's Engagement Update!
As the name implies, our Engagement Update is all about getting (and keeping) your classes fully engaged with their StockTrak portfolio throughout the semester.
The update is centered on three key components: Assignment Prerequisites, Assignment Rewards, and Badges.
Prerequisites
The Assignments feature on StockTrak allows professors to require their students to complete certain lessons, watch tutorial videos, and place different types of trades in their portfolio.
Previously, a professor would set a "start date" and "end date" for each assignment, with assignments typically set weekly or just one covering the entire class period. The next time you create an Assignment, however, a new "Prerequisites" field is available:

This is a drop-down menu that will list all the other assignments you've created in this class. By choosing a "Prerequisite", your students will need to complete that other assignment before this one becomes available – regardless of the start/end dates.
Prerequisites In Action
Let's say that I want my students to watch the tutorial videos on StockTrak before they make their first trades. First, I would set up an assignment requiring students to "Watch Tutorial Videos".
Then I would create a second assignment – "Make 5 trades", and set my first assignment as the prerequisite.
For my students, they log in and are prompted to watch the tutorial videos. As soon as they finish, we will automatically prompt them to now place their first 5 trades.
Rewards
Our next major addition is "Rewards" – the ability to give students a cash bonus for completing an assignment:

By setting a "Reward", you specify some amount of cash that will be deposited into your students' accounts when they complete this assignment. As soon as they finish all of the assigned tasks, their portfolio will be immediately credited with the reward amount.
Please Note – the added cash acts as a pure profit on your students' portfolios. If your class focuses on the Sharpe Ratio, this cash infusion can impact their portfolio volatility.
Prerequisites and Rewards In Action
To maximize your student actions over the course of the semester, you can combine Prerequisites and Rewards into weekly "Challenges" to make sure students are staying on top of their investments.
Their first assignment is to read some introductory articles and watch the tutorial videos introducing them on how to manage their portfolio. This assignment "Starts" on the first day of class and "Ends" on the last day of class.
Next, you can set up additional assignments that start each Monday and end each Friday. These assignments simply ask students to check their portfolio and update their Limit Orders, or place specific types of trades. Each will have a "reward" of $1000, but the first "tutorial" assignment set as a prerequisite.
This means that students who complete the tutorials early and get started on their portfolio have an opportunity to gain a small boost to their portfolio each week by staying engaged – and perhaps rise a spot or two in the Class Rankings. Students can only get their "weekly rewards" if they finish the tutorials first, giving a distinct advantage to students who follow directions!
Badges
Our last, and perhaps biggest, addition for engagement is our new Badges. Starting this Fall, students will be able to earn badges by completing certain actions throughout StockTrak. This could include things like:
Making their first trade
Buying 3 Energy Futures
Trading 5 Healthcare Stocks
Trading 25 European Stocks
Completing Personal Finance lessons in our learning center focusing on Credit and Credit Score
…plus dozens of other challenges (with over 150 badges in all)
After a student has earned a badge, they can set it as "Active", and it will appear next to their name on the Rankings Page and throughout StockTrak.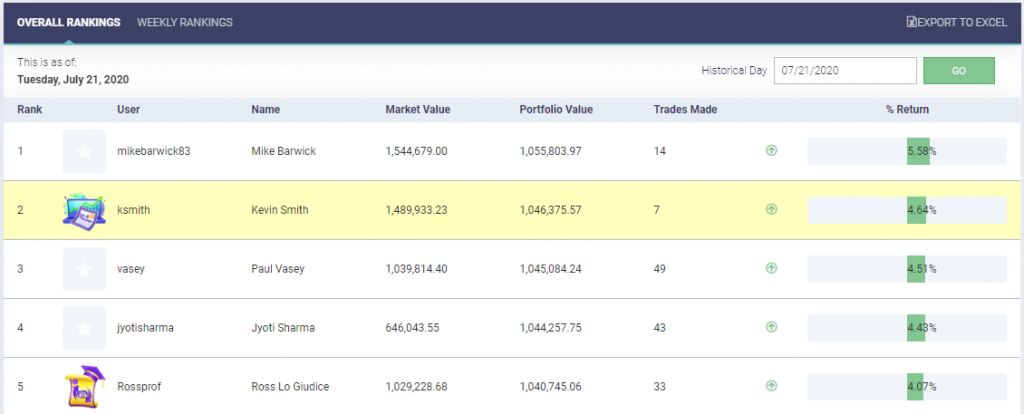 Clicking another students' badge on the rankings page will show all the other badges earned, giving students a better incentive to explore StockTrak and find new ways to diversify their portfolio.
Students can also "level up" certain badges by improving their mastery of a concept, encouraging students to go above and beyond class minimum requirements.

All of these features are completely optional. You will have the option to turn badges off in your class settings, and continue to utilize Assignments without setting prerequisites or rewards. However, these are powerful new tools in your kit to drive student engagement, and we're excited to serve your classes this Fall!