Securities Industry Essentials – SIE
Are you interested in a career in the securities industry? Whether you want to be a stock broker, a portfolio manager, an investment banker, or a financial advisor, as of Fall 2018 you will need pass the SIE (Securities Industry Essentials) Exam.
About the SIE
Have you heard about the SIE Exam? This new qualification administered by the Financial Industry Regulatory Authority (FINRA) was launched Oct. 1, 2018 and is now open to anyone age 18 or older seeking to enter or re-enter the securities industry. Association with a firm is not required, making the SIE—Securities Industry Essentials—Exam a stepping stone on the path to becoming a knowledgeable, employable securities professional.
Why was the SIE Exam created?
The SIE Exam is designed to assess a candidate's understanding of the securities market, foundational concepts and best practices. FINRA President and CEO Robert Cook said in a press release that the exam will allow for "greater consistency and uniformity to the process for entering or returning to the securities industry." He added that more people will now be able to explore careers in the field—a nod to the SIE Exam's accessibility for candidates with no prior experience or affiliation.
Aside from providing an introduction to securities, the SIE Exam is part of a greater initiative by FINRA to minimize overlap and eliminate duplicate testing across the organization's 16 representative level exams. Candidates will now take the SIE Exam first, followed by a revised qualification exam (such as the Series 6 or Series 7) for their specific job functions.
Should I take the SIE Exam?
The SIE Exam is primarily for unregistered candidates, such as students, to demonstrate their knowledge to prospective employers and jumpstart their careers. After you pass the SIE Exam, you will need to pass a qualification or "top off" exam in order to conduct business as a licensed securities professional. You must be associated with a FINRA member firm in order to sit for a qualification exam, but do not need to be associated with a firm to take the preceding SIE Exam.
If you are already a registered representative, you do not need to take the SIE Exam to maintain your current registration or to add a new registration.
What is on the SIE Exam?
The SIE Exam lasts 1 hour and 45 minutes. It includes 75 multiple choice questions across four main sections:
Section 1: Knowledge of Capital Markets (12 questions)
Section 2: Understanding Products and Their Risks (33 questions)
Section 3: Understanding Trading, Customer Accounts and Prohibited Activities (23 questions)
Section 4: Overview of Regulatory Framework (7 questions) FINRA provides an official content outline of these sections in comprehensive detail. The exam costs $60 and requires a passing score of at least 70.
SIE Exam Prep
You will see from FINRA's outline that the SIE Exam—introductory as it may be—brings a challenging combination of depth and breadth. Let Wiley help you prepare with our 2019 SIE course, covering every learning statement on the SIE Exam with bite-sized lessons, practice questions, mock exams, performance metrics and more.
Thinking about the SIE?
---
SIE Review Course and Practice Exams
One of the most popular SIE Review Courses is offered by Wiley Efficient Learning.
The Best Content
Hundreds of questions, complete study guide and more!
Bite-Sized Lessons
Master and entire lesson in 30-45 minutes.
Free Updates
Free online access and updates until you pass!
Outcome Focused
Stay on track with exam plan and powerful performance metrics.

The Securities Institute of America, Inc.
Wiley's Exam Review is authored by The Securities Institue of America, Inc. which helps thousands of securities and insurance professionals build successful careers in the financial services industry every year. Their securities training options for the SIE license and other required licensure include: on-site classes, private tutoring, classroom training, interactive online video training classes, state of the art exam preparation software, printed textbooks, and real-time tracking and reporting for managers and training directors.
---
SIE Review Course Details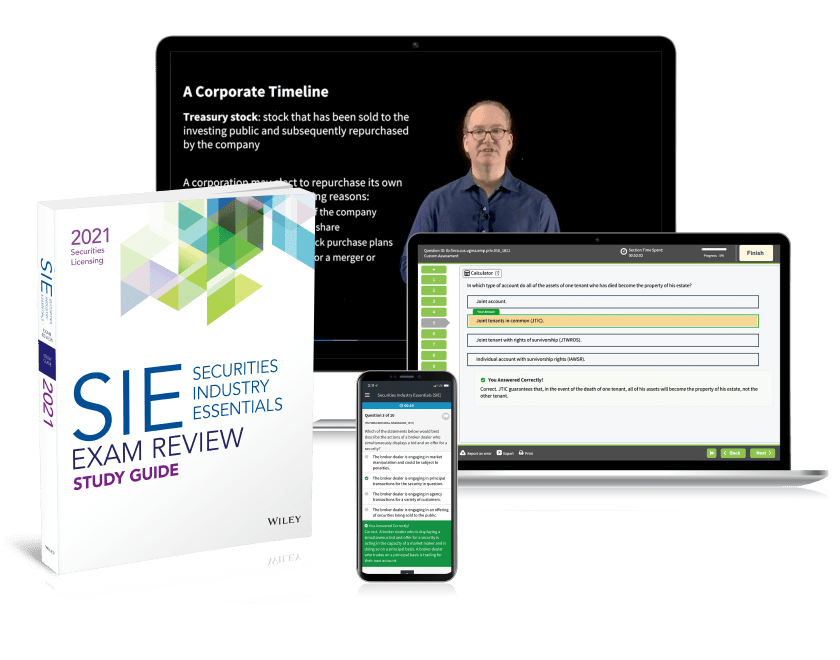 This online review course prepares you for the newly created, general knowledge FINRA exam for prospective securities industry professionals with our leading e-learning platform. Input your exam date and your exam plan will be created for you in seconds. Learn at your own pace with detailed lecture videos from expert instructors and a comprehensive study guide, then test your knowledge with 550+ practice questions and a test bank. Our course includes our unmatched pay once guarantee, giving you the confidence that you'll have access to up-to-date content until you pass.
Includes
Comprehensive coverage of the fundamentals: equity and debt securities, economics, corporate fundamentals, issuing, trading securities and much more!
30-45 Minute bite-sized lessons designed to help you learn faster and retain more
Dashboard & performance metrics
Digital exam planner & personalized study schedule
30+ Hours of study time including video lectures
550+ Question test bank
2 Full-length mock exams
Free online course updates, upgrades, and access until you pass
---
Special Pricing for Stock-Trak Students
As a benefit to using Stock-Trak, all students are entitled to a 25% discount on the Wiley FINRA Exam Review courses. For more details, click the link below:
SIE Exam Review