Chartered Financial Analyst – CFA
Does your career path include being a Portfolio Manager, a Research Analyst, or a C-Level Executive? Then the Chartered Financial Analyst® designation is for you!

About the CFA
The Chartered Financial Analyst designation is one of the most respected and recognized investment designations in the world. Obtaining this credential will ensure you are on the right path to realizing your career goals (and making an excellent salary along the way).
The CFA, however, is also one of the most challenging designations to obtain. It is comprised of 3 levels, each with their own unique set of topics. Candidates must pass all 3 levels, and complete a required work term, in order to obtain the full designation. If you are considering becoming a CFA, take note that the latest report from the CFA Institute showed that candidates sitting for the Level 1 exam who did not work from recommended study materials had less than a 37% pass rate. That means more than 63% failed!
---
According to PayScale.com, finance majors with the CFA Designation
make $24,800 more than those who do not.
---
Passing the Level 1 is just the first step in a long road, but it is also one of the most prestigious items you can add to your resume right out of school. To boost your chances of passing the exam and getting your resume noticed, interested students should take a CFA Level 1 Review Course and Practice Tests. After successful completion of a Review Course, students should then register for the CFA Level 1 exam and take the test while still in school.
Thinking about CFA?
---
Exam Requirements, Fees & Scheduling
---
CFA Level 1 Review Course and Practice Exams
One of the most popular CFA Review Courses is offered by Wiley Efficient Learning.
The Best Content
Cover every LOS with in-depth video lectures, study guides, mock exams, and 4,000+ practice questions!
Bite-Sized Lessons
Designed for busy professionals. Master a CFA Program exam lesson in less than 45 minutes – even on the go.
Free Updates
Free continuing access, course repeeats and updates until you pass the CFA program exam – guaranteed!
Learn from the Best
Learn from a team of top CFA Program instructions – lectures, live online classes, and professional mentoring.
---
CFA Level 1 Review Course Details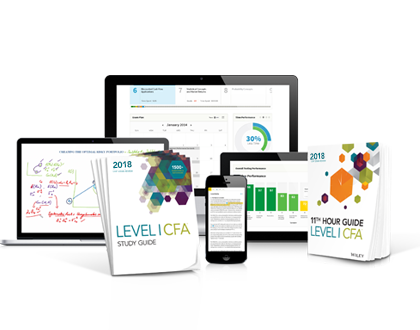 Member if CFA® Institute Prep Provider Guidelines Program
Gold Review Course includes preparation tools including:
Free automatic updates and no repeats fees until you pass
1,500+ assessment questions (per level)
90+ hours of video (per level)
14+ sessions of virtual classroom series (per level)
Platinum Review Course includes full Gold course plus:
11th hour final review mock exam
11th hour final review with 40+ hours of lecture videos
11th hour review study guide
---
Special Pricing for Stock-Trak Students
As a benefit to using Stock-Trak, all students are entitled to a 25% discount on the Wiley Efficient Learning CFA Program Exam Review. For more details, click the links below:
Level 1 Exam Review
Level 2 Exam Review
Level 3 Exam Review