Using StockTrak could be an exercise of patience for students who day trade – constantly refreshing the Open Positions to see price movements can be draining.
Not anymore!
With our most recent upgrade, the Open Positions now flashes price updates as they happen – every few seconds, the values will update.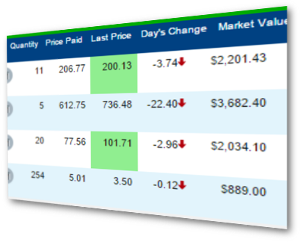 It is also color coded – green when a price ticks up, red when the price ticks down.
The flashing price updates are only available on the List view (for now), but it adds a whole new level of action to the investment education experience!