[investing101logo]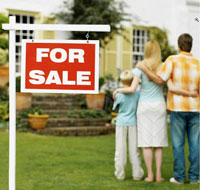 Buying and selling real estate as an investment strategy is quite different from simply buying a home or commercial building. Just as important in determining FMV (fair market value) as comparable properties are when buying a home, the income stream generated by a property is a primary component for an investor. You typically have three options if you want to invest in real estate:
Buy specific pieces of residential and commercial property
Invest in mutual funds focused on real estate investments or a REIT (real estate investment trust). REITs invest in properties like shopping centers and other rental properties, and therefore, generally pay off a high dividend as long as they properties they invest in stay leased.
Invest in MBS (mortgage-backed securities) or MBO (mortgage-backed obligations)
In normal or expanding economies, real estate investing can be quite lucrative and relatively safe. In down markets, both the potential rewards decline and the possible risks escalate quickly.
To invest in the Real Estate market in the stock market, you can trade REITs, ETFs like SRS, or the [ts]stocks[tm]Stocks are "equity investments" which means that individuals that own stock shares of a company actually own part of that company.[te] of any of the following home building companies:
If you don't want to trade REITS publicly, you can also invest in real estate privately with a company like Fundrise. Find out more about Fundrise.   
[mark]If you plan on living in a city for more than 5 years, you should buy a house. After you have a house and you have started to grow your nest egg, buy a vacation home somewhere that you want to go to for the next 20 years. Just as you should never put all of your money in one stock, you should never have all of your personal wealth in the stock market. Use REITS in your stock portfolio if you are seeking high dividend yields, but ALWAYS get out before the next recession hits. Home building stocks are generally leading indicators and their activity gives you an indication of where the economy is heading.[endmark]