Spring 2019 University Student National Challenge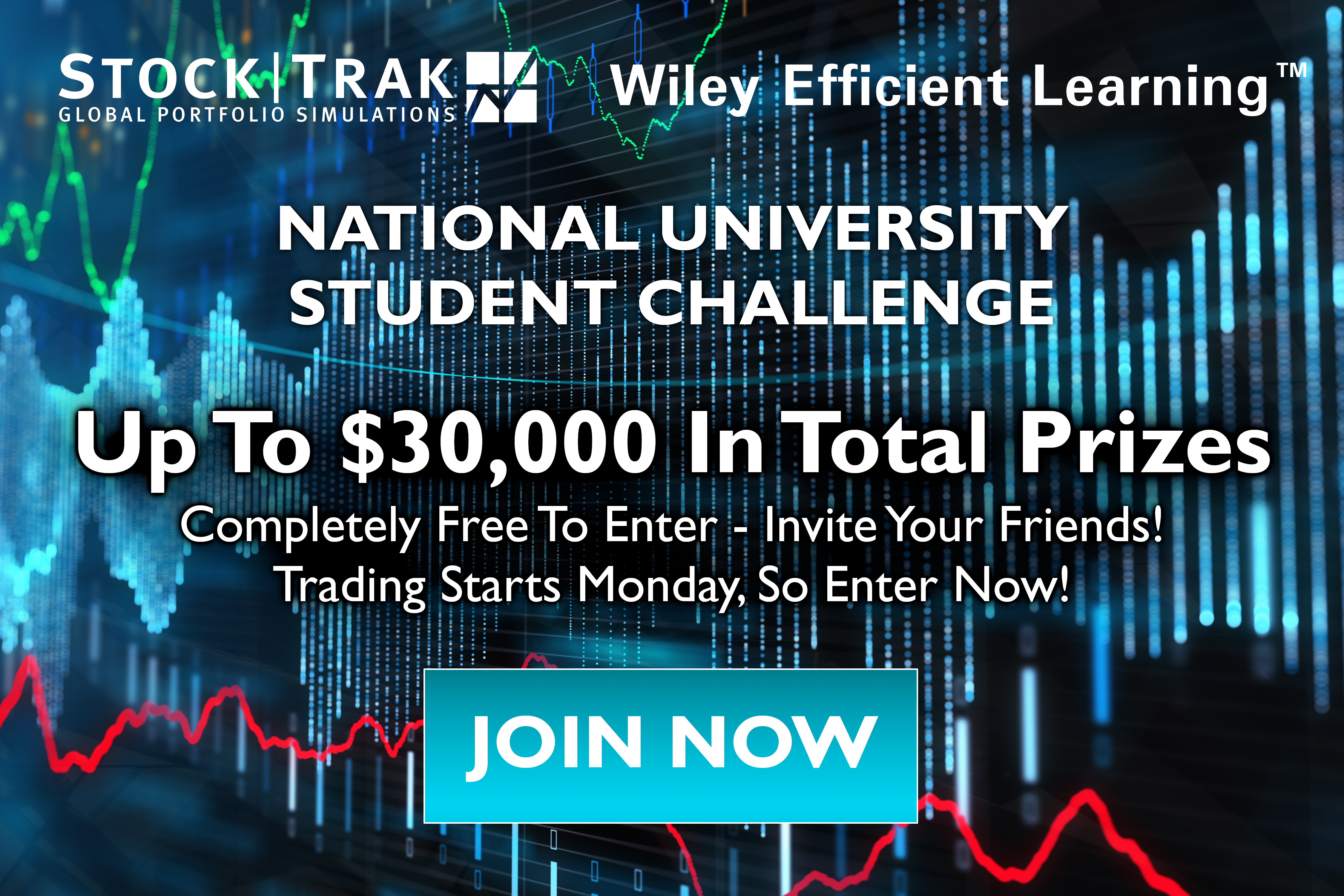 University Student National Trading Challenge
Sponsored by Wiley Efficient Learning
This Spring, StockTrak and Wiley Efficient Learning are partnering to open our National Trading Challenge to all students on StockTrak.com. The challenge invites all current StockTrak students to build a $1 million portfolio of US Stocks, Mutual Funds, ETFs, and Bonds, for a chance at cash prizes and free certification courses to help launch their career, and is completely FREE to enter.
Professors – to invite your students who are not already using StockTrak this semester, please direct your students to this page (https://content.stocktrak.com/spring-2019-university-student-national-challenge/).
Challenge Prizes
The top 20 student portfolios will win their choice of a Wiley Efficient Learning certification course, choosing from their CFA, CFP, CPA, SIE, Series 7, or Series 63 courses*.
The top 5 finishers will also each receive a $500 Amazon Gift Card* from StockTrak. – that is up to $30,000 in total prizes!
*To be eligible for the Wiley certification courses, students must be enrolled in a US or Canadian university class in the current semester. Students outside US and Canada are still eligible for cash prizes.
Challenge Rules
Trading is open from March 18 – May 10, 2019
Participants may trade US stocks and ETFs, and US mutual funds, and bonds
There is a $5 minimum price for all stocks
Students may short sell and buy on margin
Students may day trade
Students may only invest 20% of their portfolio in any one security
Students must also complete the included Assignment, requiring each student to read certain articles and make certain trades by the end of the challenge. Students who do not complete the assignment will not be eligible for prizes.
Each student is allowed only one entry
All results are a subject to an audit to verify accuracy by the StockTrak team. Results of the audit are final.
Join The Challenge
If you are already using StockTrak in a class this semester, click here to add the challenge as a free extra portfolio on your account (you can switch between the Challenge and your class portfolio at any time using the "Active Portfolio" dropdown on every page).
If you are not using StockTrak this semester, click here to register your free account for the challenge!