Spring 2022 StockTrak University Challenge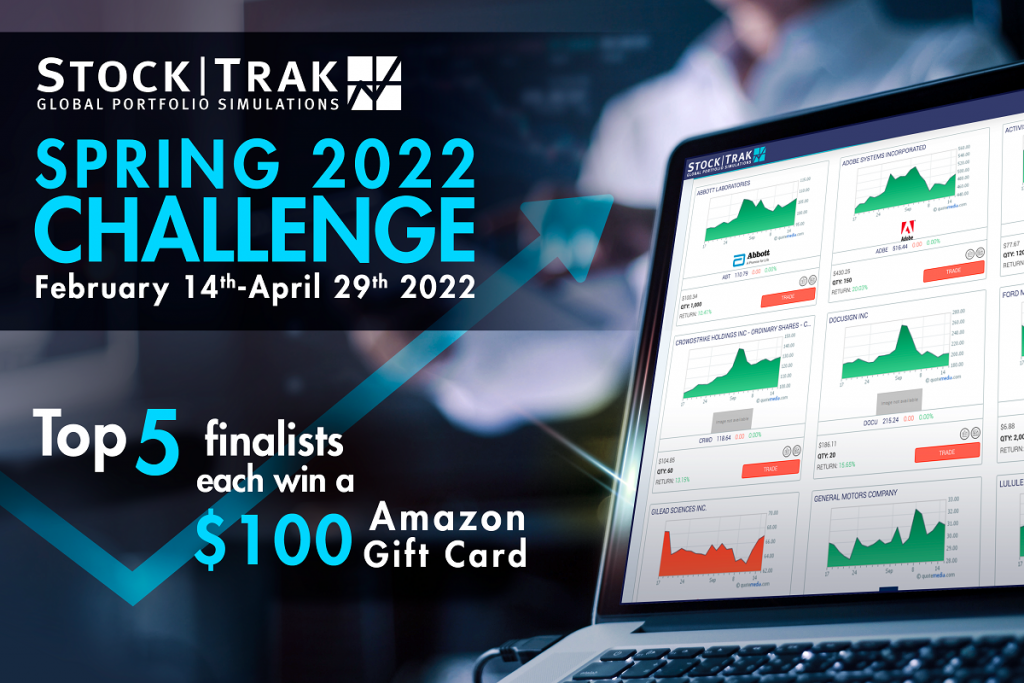 This Spring, StockTrak once again offering the National Trading Challenge to all students on StockTrak.com. The challenge invites all current StockTrak students to build a $1 million portfolio of US Stocks, Mutual Funds, ETFs, and Bonds, for a chance at cash prizes and is completely FREE to enter.
Professors – to invite your students who are not already using StockTrak this semester, please direct your students to this page.
Challenge Prizes
The top 5 finalists will each receive a $100 Amazon Gift Card from StockTrak.
Challenge Rules
Trading is open from February 14th to April 29th, 2022
Participants may trade US stocks and ETFs, and US mutual funds, and bonds
There is a $5 minimum price for all stocks
Students may short sell and buy on margin
Students may day trade
Students may only invest 25% of their portfolio in any one security
Each student is allowed only one entry
All results are a subject to an audit to verify accuracy by the StockTrak team. Results of the audit are final.
Join The Challenge
If you are already using StockTrak in a class this semester, click here to add the challenge as a free extra portfolio on your account (you can switch between the Challenge and your class portfolio at any time using the "Active Portfolio" dropdown on every page).
If you are not using StockTrak this semester, click here to register your free account for the challenge!