Financial Literacy Is More Important Than Ever
Here's What Your School Can Do, StockTrak Can Help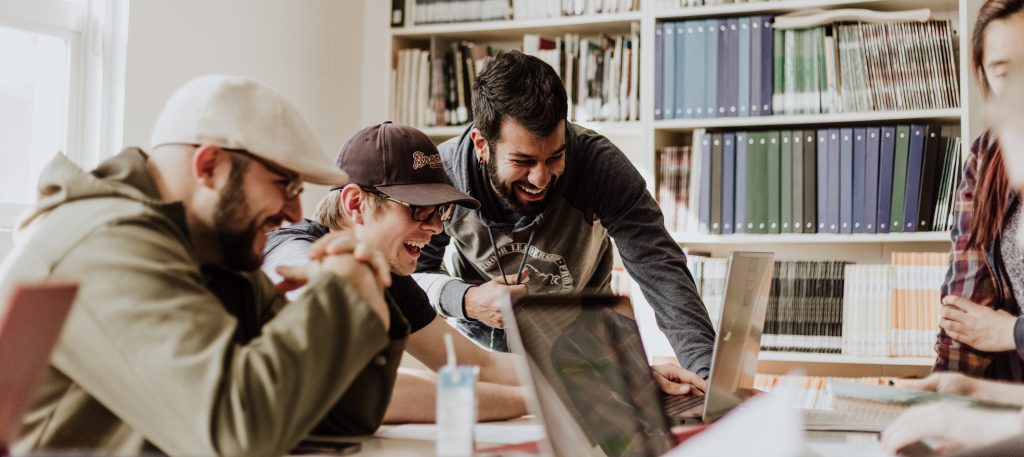 How many students at your school are already in credit card debt? How many know how to manage their student loans after graduation, let alone save up for a mortgage? If you care about making sure everyone graduates with the financial skills they need to plan for their future, we can help.
StockTrak's Campus-Wide Financial Literacy Program
Beyond StockTrak's investing simulation, we have a whole suite of financial education resources designed from the ground up to promote financial literacy at colleges and universities across the country. This program includes: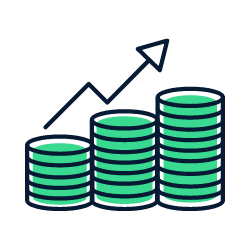 Simplified Investing Simulation
With walk-throughs and help for beginners. Includes stocks, bonds and mutual funds.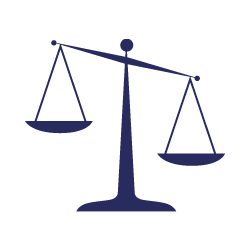 Fully-Immersive Personal Budgeting Game
12 month simulation starting as a college student who graduates, starts their first full-time job, manages bills, cash flow, and reaching monthly savings targets
Tens of thousands of university and high school classrooms are already using our resources in their classrooms, but our new Campus Wide Financial Literacy Program takes things to a whole new level. One of the biggest challenges students face is understanding how to manage their financial situation and the stress that it can sometimes provide. As an educational institution, why not make sure that EVERY student graduates with some basic financially literacy skills–these are the skills that the students will benefit from for their entire life!
How does it work?
At the start of every school year or semester, your university or student association can kick-off a Campus Wide Financial Literacy Program. Imagine how much value you would get from having this available for your students, and even your university employees.
The Program begins with the fun and engaging Personal Budgeting Game that has built-in lessons and pop quizzes. Student start as full-time student with a part-time job, graduate and then become full-time professionals. It covers creating a monthly budget and establishing savings goals. Students have a checking account, a savings account, and a credit card account. They get experience paying bills, dealing with life's unexpected events, and managing their credit card to cover the unexpected expenses.
While focusing on staying on budget and building their Emergency Savings Fund, students learn to plan for unplanned expenses that are just a fact of life. They gain the most points by practicing Paying Yourself First. The overall game score evaluates their ability to stay on budget, manage their debt, improve their credit score, establish an Emergency Fund, and build their Net Worth.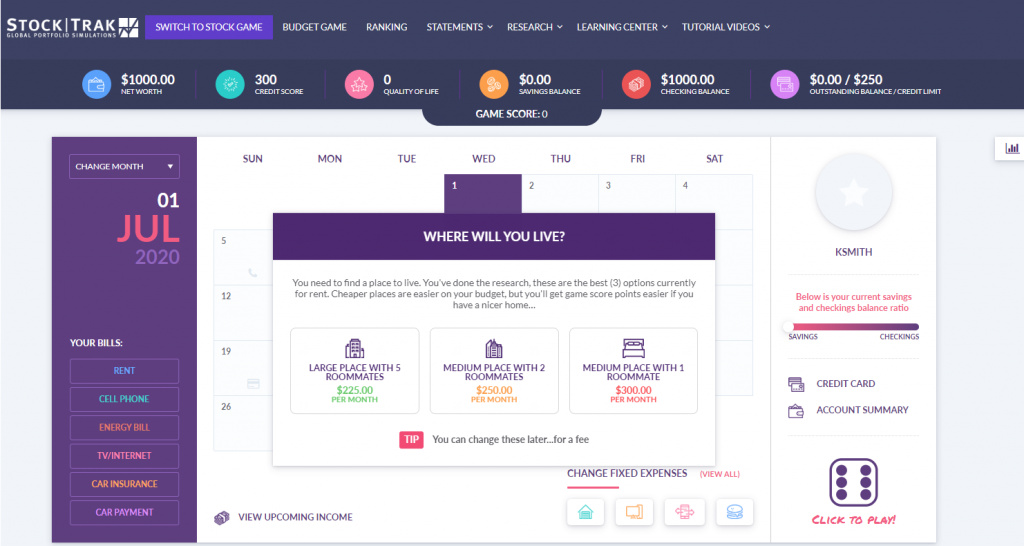 After the first week of the program, students receive $1000 to start building their investment portfolio, (powered by StockTrak's investing simulation). Users can buy stocks, bonds, and mutual funds with real-time rankings and data. The competition heats up as they watch their portfolio rankings rise and fall. This is an excellent way to foster student engagement on your school's social media channels.
As they progress through the Budgeting Game, additional practical lessons on insurance, debt management, and personal finance pop-up in the game. While in the Stock Simulation they are credited $500 per week to keep growing their investment portfolio. This is exactly how real professionals build their retirement funds. Contributing a portion of every paycheck and growing their net worth as they go.
Better yet, StockTrak will sponsor $500 in prizes to the top performers in the Investing Simulation to sweeten the deal!
Financial Literacy Certification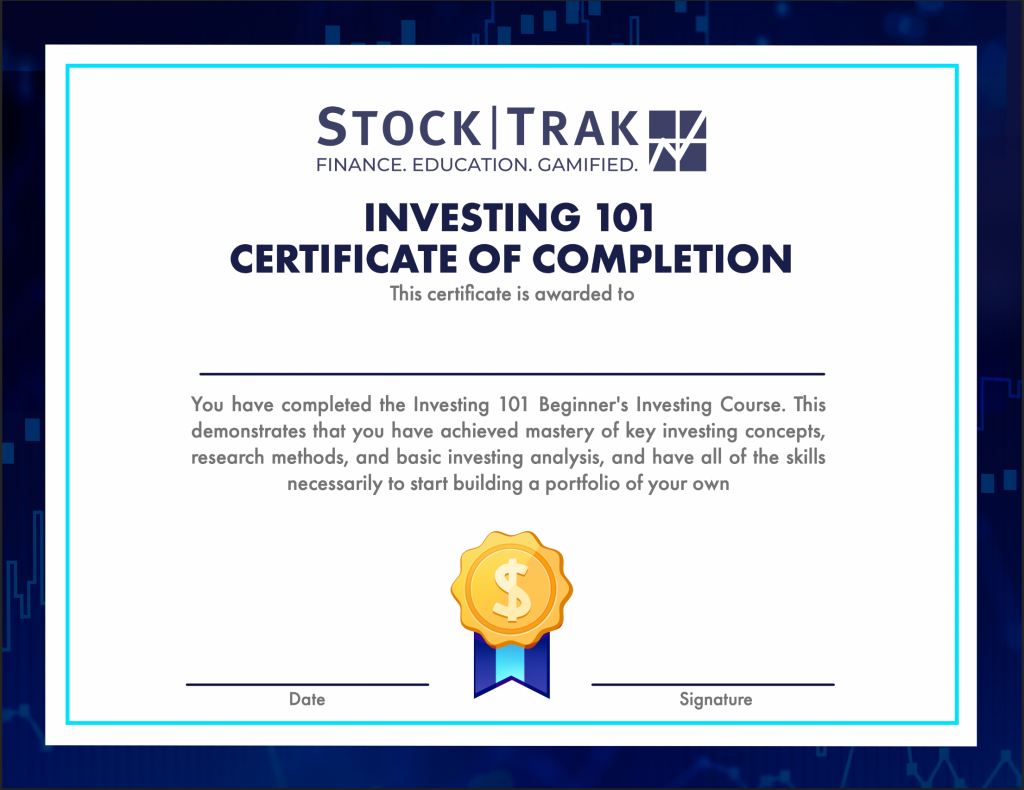 Integrated into this interactive and engaging platform are two different certifications. Participants can earn the following certifications by completing the 75 personal finance lessons, StockTrak Finanical Literacy Certification and Investing 101.
The Investing 101 mini-course is available to get non-business majors caught up to speed on how to make their first investments.
So even if the students at your school know nothing right now about economics, business, or capital markets, by the end of the program they will do. And they will be able to prove it on their resume, LinkedIn account, or keep a physical copy for their records.
Based on their performance, they earn badges on their budgeting and investing decisions. They can show them off on the ranking pages within the Budget Game and Investing Simulation.

At the end of the program, everyone who completed the Budget Game, built their own basic portfolio and completed all the lessons will earn our Financial Literacy Certification. This shows that they have what it takes to "adult" in the real world.
Spreading Financial Literacy
StockTrak has been running as a premium stock simulation platform for over 30 years, and we want to help you expand financial literacy for all students before they graduate. This is important not just for business and MBA students. Everyone should know how to manage wealth and understand their finances.
To help you launch your first challenge, we've put together all the documents you need to get your students registered and ready to go.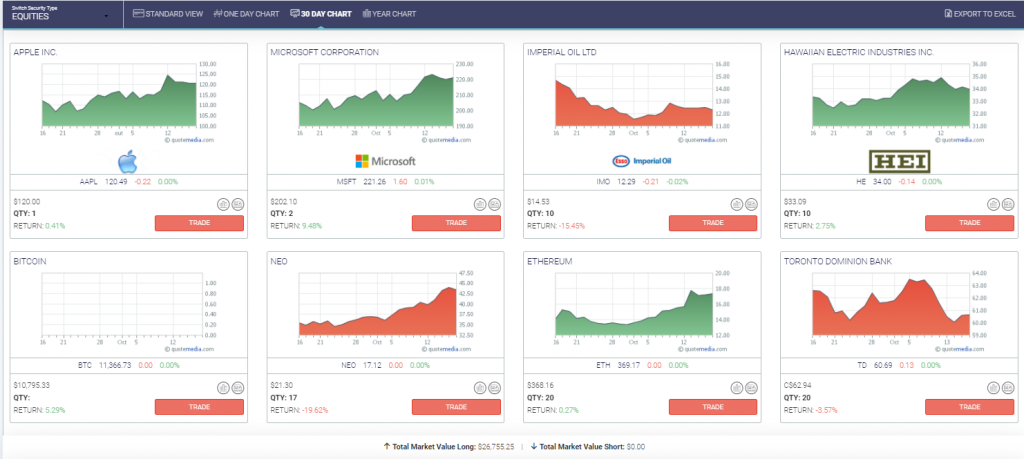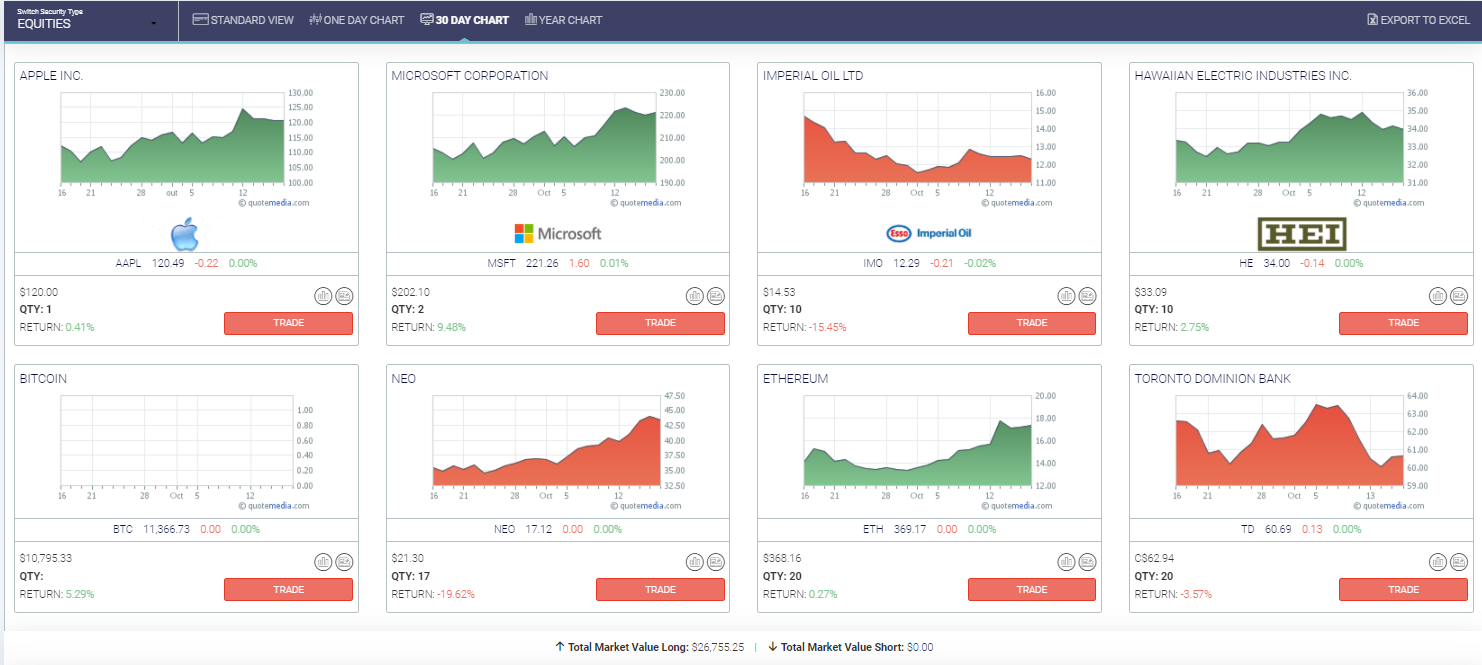 Communication Tools for Your Campus
The following marketing materials will be provided for you to use with your existing campaigns and student-led organizations. You can either use them directly or customize them to fit your school's brand.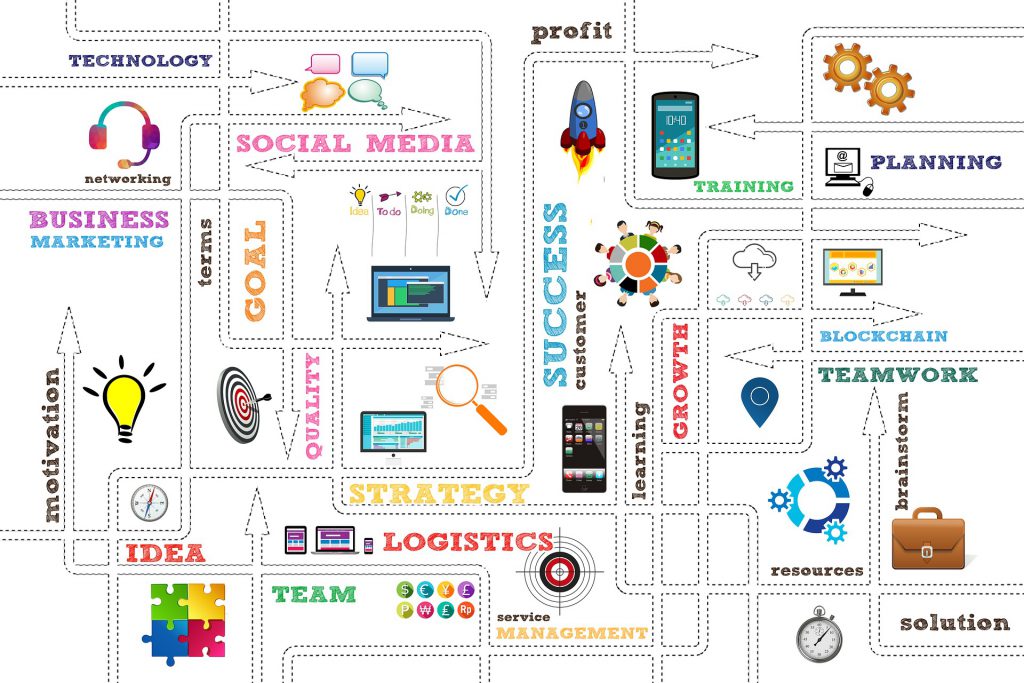 Orientation Package: how to use the platform, setting up tournaments and FAQs
Poster/Flyer: to share around campus or on student portals
Email Newsletter Campaign: a series of emails to introduce the challenge, engage students, and provide resources and strategies so they feel more confident
Landing Pages: with details on prizes, tournament rules, and how to start a portfolio
How To Launch A Financial Campus Program At Your School
There are 3ways to launch a Financial Literacy Program at your school
Through a Professor, Club or Student Association
Your school or club can launch a small program. Students pay a $19.99 fee when registering.
Through Your Business School
If your school already has a StockTrak site license, the Financial Literacy Program can be added for an additional fee of $7,500* covering your entire freshman class. This is a great way to add a financial literacy component to your Business School.
Get More Information
If you'd like more information about launching a Financial Campus Program at your school, leave your contact details below to get in touch with the StockTrak Team!
*Images: Unplash and Pixabay