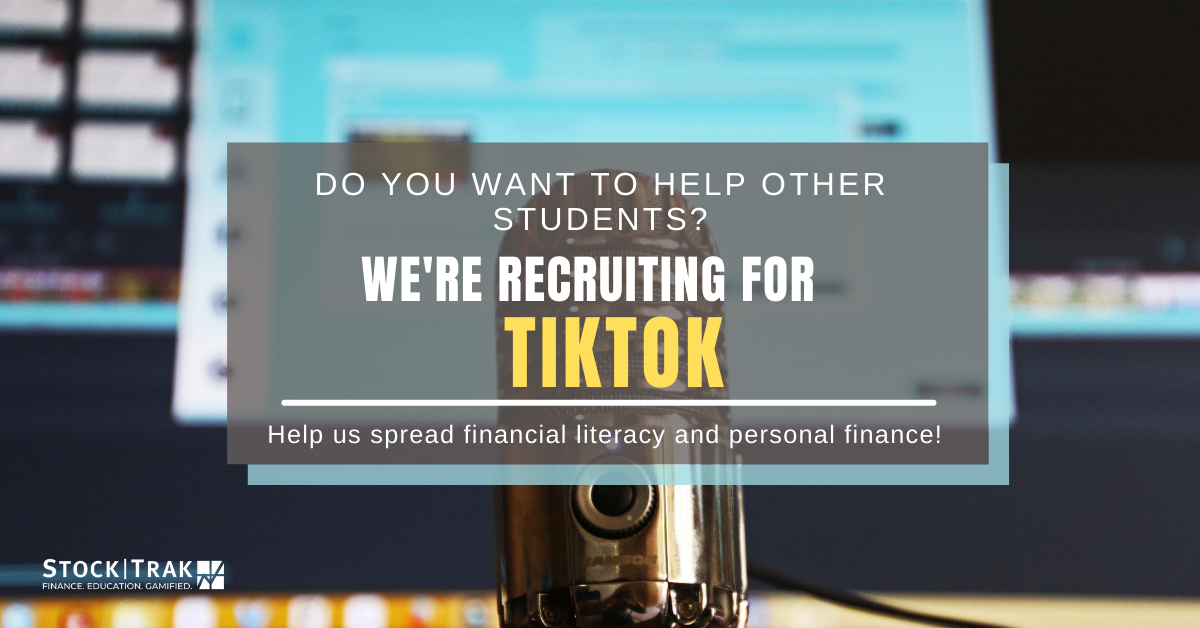 Are you passionate about investing and personal finance? Do you want to share your knowledge and experience with other students?
If the answer is yes to both of these questions, then you could make an excellent candidate as the StockTrak TikTok spokesperson. Please read the job description below and if you feel this applies to you, then please fill out the application form.
The ideal candidate has a passion for creating TikTok video content with a focus on engagement and growth for a company on the platform. We are looking for a team member who has creative ideas, understands platform trends, has great video editing skills and a positive attitude. This role is perfect for someone who is an avid user and creator of TikTok video content and understands what goes into making compelling and engaging content.
Above all, you should be knowledgeable about the latest TikTok trends and enjoy creating and experimenting with them in the app in unique and unexpected ways that are also on brand with the StockTrak family of sites.
Responsibilities and Duties
Manage and grow the our TikTok accounts.
Responsible for coming up with video concepts, filming all original video assets (mobile device is fine) and all editing whether in or outside the TikTok app
Engage with the TikTok community in a way that is on-brand
Contribute to the strategy, vision, and voice of the channel
Measure and analyze performance
Establish evolving best practices
What We'll Love About You
You don't have to be a finance major, but having knowledge and interest in financial literacy and investing is a must
You are currently enrolled in college or university, or recently graduated.
You are an enthusiastic and creative person who loves producing content
You are passionate about storytelling and the social space
You are constantly looking for ways to stand out on social media and jump on new trends
You are comfortable with being in front of the camera and being the face of a brand
Qualifications and Skills
Significant experience as a TikTok user
History of creating content that performed well and drove attention whether for yourself or a brand
Good understanding of TikTok's ecosystem: trends, hashtags, music usage, functionalities, guidelines, and platform updates
A passion and interest for creating compelling brand stories that are engaging
Good verbal, written, copy editing and proofreading skills
Experience with native social media tools and content creation apps
Able to thrive in a fast-paced business environment while working effectively and collaboratively with team members
Let us know more about you by filling out this form. A member of our marketing team will reach out to you if you're selected for an interview.
We look forward to hearing from you!