All of Our Financial Education Sites
After 33 years of business and 10 million users,
the Stock-Trak Family of sites continues to grow and now includes: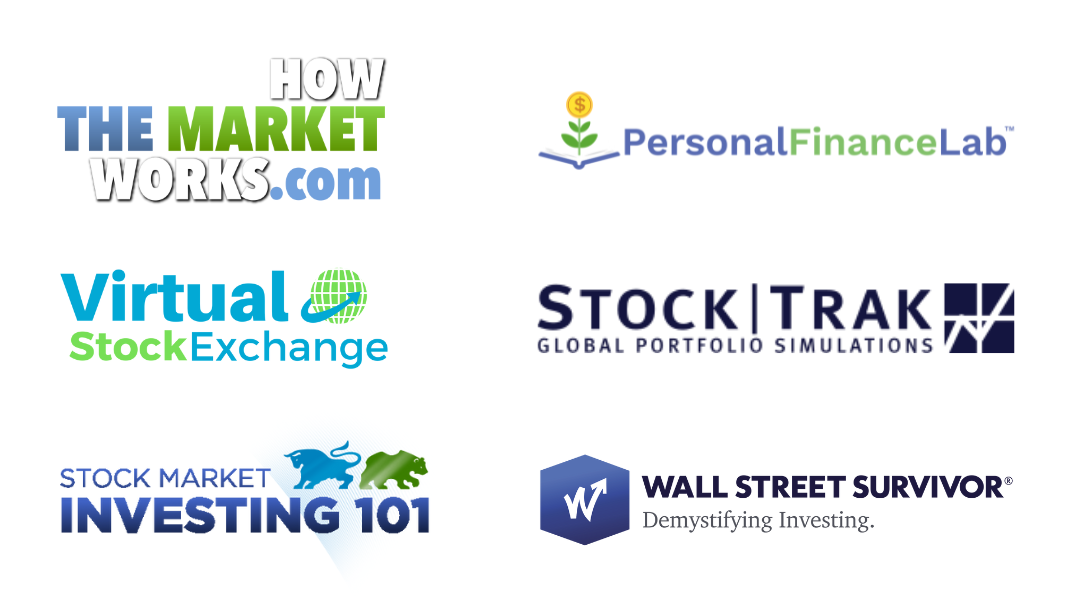 StockTrak.com
Targets university business classes and trading rooms. StockTrak.com is now used by more than 1,000 professors and their 70,000 college students each year, including over 80% of the top U.S. Business Schools
Visit website
---
HowTheMarketWorks.com
Targets high school & college students in personal finance, business and finance classes; as well as asults wanting to learn about investing in the stock market. HowtheMarketWorks is now used by 400,000 users each year and features trading of U.S. stocks, bonds and mutual funds. This site also allows any user to create a customized stock market game and challenge their classmates or friends. The site also features over 300 educational articles, videos and assignments aligned to national high school standards.
Visit our
Free High School Stock Market Game
---
WallStreetSurvivor.com
Targets the general public that wants to learn how to invest in the stock market; includes free courses. Wall Street Survivor® is used by 150,000 individuals each year looking to learn about the stock market and want to use a stock market simulator to trade U.S. stocks and options with a free virtual portfolio. This site also features many concise courses and other helpful pages like best stocks to buy now.
Visit our Stock Simulation Site
---
---
PersonalFinanceLab.com
Targets high school business and personal finance classses. PersonalFinanceLab is a unified platform combining our financial literacy course, curriculum and games for high school students. This site is used in many high school personal finance, economics, and business classes.
If you are a high school teacher, you must visit this
Financial Literacy Games
site.
---
Investing101.net
Targets individuals looking for the best free investing course for beginners. Investing 101 is an online Investments course that is structured like a college level class with chapters, additional reading, exercises and quizzes to that users can monitor their own progress and move at their own pace.
Visit our
Investing 101 Course
---
Investor Education
Reviews of many financial services including:
---