Learn What It Is Like To Be A Wall Street Trader
Try the TraderEx Simulation
TraderEx is an excellent addition to StockTrak that will give you valuable hands-on experience managing time and market pressures placing you in the roll of a Wall Street trader.
While StockTrak.com simulates being a portfolio manager where you buy and sell securities over a few months, we would also like to show you what it is like to be a trader on a trading desk on Wall Street where you might have a specific task of buying 1,000 shares of Apple (AAPL) or selling 300 shares of Intel (INTC) over the next 5 or 10 minutes. This downloadable Java application is provided FREE to StockTrak students by TraderEx.
TraderEx behaves just like the real market whose mission is to enable you to try to buy shares at the lowest price possible; or to sell shares at the highest price possible. TraderEx places you in the roll of a Wall Street Trader who has no time to lose as your portfolio manager gives you buy and sell orders to execute in a continuously simulated order-driven market. While not every student will become a professional trader, the simulation will offer exceptional insights into the world of professional trading – buying and selling in brief intervals of 5, 10, and 15 minutes.
The TraderEx Simulation is designed to provide students with hands-on experience in making and implementing tactical short-term stock market trading decisions in different market environments. This TraderEx simulation will show you a few things that will help make your StockTrak experience more meaningful:
It gives you insight as to what a trader on a Wall Street trading desk might do
It will help you understand what a bid price and an ask price really are and what they mean
It will show you how market and limit orders are filled
And, it will teach you how important it is to buy low and sell high
THE FIRST TIME YOU USE TRADEREX, YOU MIGHT BE TOTALLY CONFUSED, SO PLEASE READ CAREFULLY!
TraderEx is a computer driven stock market whose mission is to teach you how to buy low and sell high. The simulation exercise begins with your portfolio manager handing you an order to buy or sell medium-to-large sized lots of shares in a continuous, order-driven market.
Your job is to get the best possible price within the time allotted, working against the computer's algorithms. As the simulation advances, pressure can build, offering participants valuable insight into what it takes to trade professionally for major investment managers.
Not to worry – unlike the real markets, you can always press PAUSE if the pressure gets too much!
So let's begin: Click the link below to download the JAVA application (it should just take a few seconds)
You will then see a summary of the order you are about to try to fill. Here the order is to BUY 1000 MSFT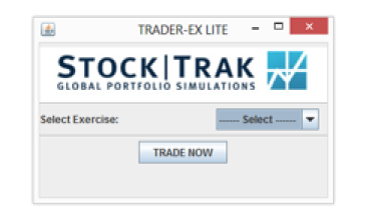 You will then see this screen where you will choose the order that you want to try to fill at the best possible price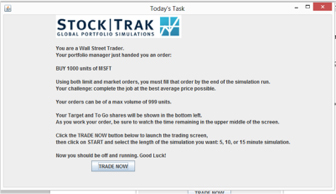 Once you press TRADE NOW you will see this screen below. The left gray side is the current list of orders for MSFT. The left column shows the existing buy or bid orders where there are currently 46 units bid at $44.90. The right columns shows the existing sell or ask orders where there are currently 65 shares offered at $45.10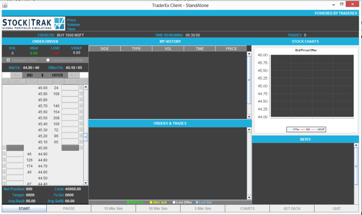 To start the TraderEx simulation, press START in the lower left corner and then chose the 5, 10, or 15 minute simulation. Once you get it running you will see the order book changing, orders popping up in the middle columns, and you will see the Bid/Price/Offer Stock Chart start to show data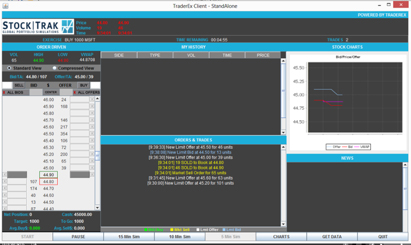 To start trading, place a MARKET BUY order by typing a small number (like 10) in the white box to the right of the word OFFER/BUY. As soon as you type "10" and hit enter on your keyboard the order should fill at the lowest OFFER price

Once you have placed a few market orders and understand the price that you are getting filled, then place a few limit orders. To place limit orders, you enter the number of units you want to buy or sell in the boxes next to the different price points. Only orders in dimes are accepted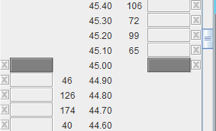 As the minutes start to tick away, your screen will start to look like this. Notice the pending limit buy orders of 100 units at $44.40, 50 units at $44.30 and 50 units at $44.20
Also notice that at the bottom of the order book it shows your Net Position, Target, Units To Go, and your Average Buy Price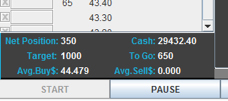 Remember to keep an eye on the clock (it's above My History) so you know how many seconds you have left to finish your Target Order

Once you have completed your timed TraderEx simulation, you will receive a brief report showing how you performed versus recent students for that assignment.
Now that you have an idea, watch this video:
For more information, please see the TraderEx Student Manual:
http://www.etraderex.net/trading/TraderExBackground.pdf
To start playing, click this link:
http://69.89.12.199:8080/StandAlone/standAloneStockTrakDyn.jsp
Keep practicing to see if you get better!
If you would like to compete against your classmates in a networked version where the market is taken from other students and not from a random market, then have your professor contact us: