Getting the Series 7 Certification is a requirement for most jobs in finance!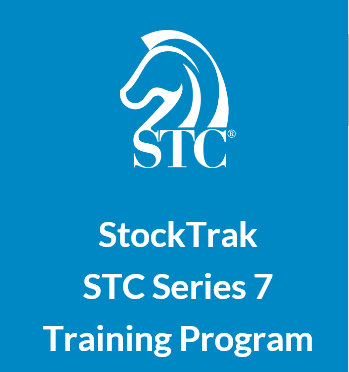 StockTrak has partnered with the leading Wall Street Series 7 licensing exam prep service (Securities Training Corp) to bring you an Exclusive Series 7 Exam Preparation Package at a deeply discounted student price.
Register today and save an extra $30 off the already discounted student price of $249.
Exam Preparation Package
Multiple choice progress quizzes that cover an average of 3 chapters each.
Multiple choice final exam (STC Green Light Exam).
Attend live lectures at any STC physical location at any time for a full year.

Login access to the STC interactive homeroom for the Series 7 progress exam quizzes, Final Exam, and the On-Demand lectures.
24-Chapter eBook.
Multiple choice quizzes for every chapter
Top recruiters from the largest financial firms and brokerages are asking StockTrak for resumes from any student who passes this course!
The StockTrak/STC Series 7 Training Course
STC has trained more than 1 million financial service professionals, including over 75% of all individuals working at financial firms on Wall Street. Students who go through the training program and master their practice exams have passed the actual certification exam with over 90% success rate on their first try.
Need more convincing? Take a look at how many job offers in your area require the Series 7 certification:
You don't want to miss this opportunity! You are saving 45% just for a limited time.