On the surface students see a real-time stock market game where they manage a virtual $100,000.
PersonalFinanceLab.com features self-paced activities to guide students through embedded lessons and activities that are aligned to standards. Features of this site include:
Stock market simulation site that allows students to manage a virtual portfolio of stocks, ETFs, bonds, and mutual funds.
Students can even trade options, futures, commodities and global equities if the teacher so chooses.
Stock quotes, charts, and news.
Complete 5 year financial statements including balance sheets, income statements, cash flow statements, SEC filings, Wall Street analyst ratings, company profiles, earnings and economic calendars, NYSE/NASDAQ most actives, gainers and losers, and more
Interactive financial calculators including: compound interest, advanced investment return calculators that factor in taxes and inflation, personal budgeting, credit card interest and payoffs, car loan interest, mortgage rates and terms, housing rent vs buy, automotive buy vs lease and more.
Robust Education Center with articles and lessons aligned to state standards for personal finance, math, social studies, economics, business and computers.
Articles include "pop quizzes" at the end to assess students' grasps of concepts
"Report Card" feature that allows teachers to monitor student activities on the site including stock market portfolio and pop quiz performance
---
Registration and Class Set-up is Easy!
Once a teacher has registered on the site, there are really just 2 steps:
Each teacher creates a custom stock market contest for their class by selecting the trading dates, initial cash balance, securities allowed, commission structure, and diversification rule.
Then each teacher reviews the embedded curriculum and selects the activities they want their students to complete.

Then when the students log in, they will see their virtual cash balance and a "Progress Bar" showing them how much of the curriculum they have completed. They can click on the next activity, and complete a task or two every time they log in.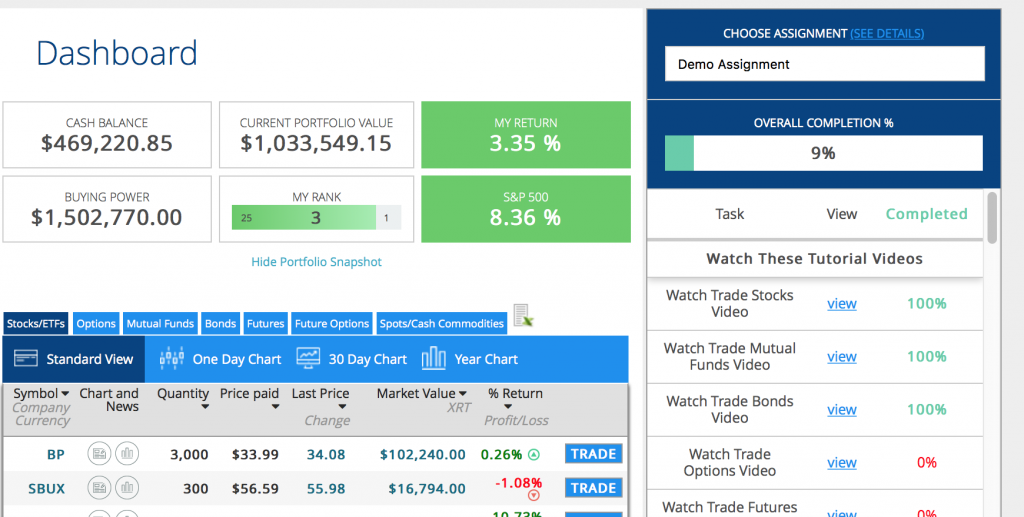 ---
Watch the Students Compete and Learn
While learning how to save and invest by managing a virtual portfolio of stocks, bonds, and mutual funds, your students will be led through the site's built-in "Assignments." These Assignments contain our curriculum of articles, activities, videos, and quizzes that ensure mastery of the subject. Your Personal Finance classes will use our 25 embedded lessons and activities that align to the Personal Finance standards; your Economics classes will use our 25 Economics lessons and activities that align to Economics standards; and similarly for your Social Studies, Math and Business classes. All 125+ lessons and activities are aligned to national standards, but all have a personal finance theme. When students login to check on their stock portfolio they will be reminded of their progress through the Assignment.
---
YES! THREE SUBJECTS CAN BE TAUGHT ON ONE SITE.
Three different subjects can be taught through this site PersonalFinanceLab.com and each class will have access to the articles and activities aligned to the relevant national standards of Personal Finance, Economics and/or Business. With this site, most of the articles and activities have a financial literacy theme to help them with their understanding of the markets, savings, and investing.  Along the way, students will also learn how current events, the government, politics, and large businesses can impact the financial markets and their own portfolios.
Download Our Sample Course Outline
---
Self-Grading Pop Quizzes Insure Student Mastery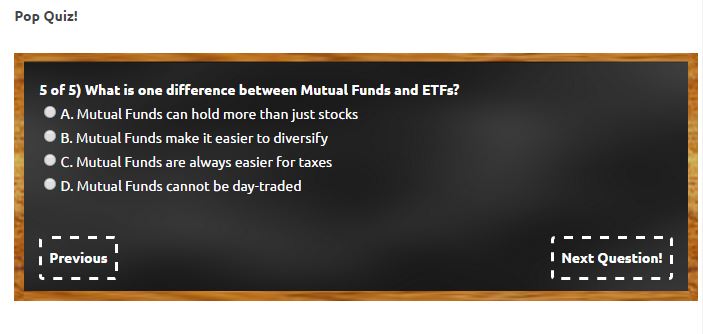 From the teacher perspective, our site is self-paced so that students can work at their own speed completing the articles and activities. The site is also self-grading, so that teachers will know which students have completed which articles and activities because every task on the site has a pop-quiz at the end. Students must show mastery of the subject in order to get credit for completing that task!
---
PersonalFinanceLab.com Site License Pricing
Stock-Trak is the leader in high school personal finance applications with over 500,000 students using our sites each year.
Stock-Trak's premier site is PersonalFinanceLab.com which includes a customizable stock market simulation with embedded Personal Finance, Economics, and Business curriculum. The curriculum is aligned to national standards and consists of over 125 articles, videos, interactive calculators and other activities—each with a POP QUIZ at the end that students must pass to get credit for completing each task.
The site is also ad-free, is COPPA compliant, and is Google Classroom compatible. Each semester there is also a National Student Competition with prizes for top performing students.
When deciding which Site License you need, please consider the total number of students at your school that might benefit from this site for the entire year. PersonalFinanceLab.com Site Licenses are sold on an annual basis (any 365 day window) per school.
Standard Site License: 250 to 1,000 seats per year is US$ 3,995
Mini Site License: up to 250 seats per year is $ 1,995
Micro Site License: Up to 100 seats per year is $ 995

(Save 10%!—Prepay 3 years and save 10%!)

Examples:

If you teach 1 class of 30 students Fall, Winter and Spring you will need 90 seats so you will need the Mini License
If you teach 4 classes of 35 twice a year you will need 280 seats so you will need the Standard License

---
TO GET A FREE DEMO OR REQUEST MORE INFORMATION, PLEASE COMPLETE THE FORM BELOW…
YES, I Want to Receive More Information About Getting a PersonalFinanceLab.com Site License at my School